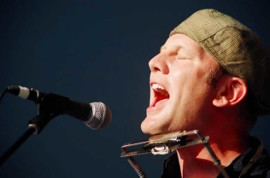 Like some kind of caffeinated single malt whiskey, Mark Reeves' acoustic roots-rock goes down smooth and easy, but packs a powerful kick that can't help but move you. Reeves is a rare, talented artist who leaves unsuspecting audiences slack-jawed and eager for more.
"This is a night not to be missed in the intimate Galleries at Meaford Hall Arts & Cultural Centre, this Saturday, March 4 at 8 p.m.," said Meaford Hall.
Reeves is one of those artists who's been around, building steam, making records and touring in support of some of the world's best-known roots artists.
The past two decades have seen Reeves stream through a journey from busker to seasoned performer with masterful chops and the kind of mesmerizing stage presence that most artists never achieve in a lifetime. Turning heads because of youthful talent, he won a scholarship to Boston's Berklee College of Music at 19, paid his dues in the blues clubs, made a record with Los Lobos producer Keith Keller at Keller's mansion in New Orleans, won a sackful of awards, and warmed up stages for everyone from Robert Cray and Blue Rodeo to Colin James and Jesse Winchester.
It's been said that if Bonnie Raitt and Lyle Lovett had a love child, Mark Reeves would be it. Fans of Lovett and Martin Sexton will eat up Reeves's hard-earned positive vibe, rock solid rhythmic groove and kick-ass Motown horn section which adds a pleasant double-espresso kick to the mix.
Anybody who loves R&B will immediately be inspired by Reeve's infectious, 'dance-all-night grove thang', but there are profoundly beautiful moments here, and unpretentious lyrical wisdom that makes you sit back while you catch your breath.
Tickets are just $30, showtime is 8 p.m. this Saturday, March 4 at the Meaford Hall Arts & Cultural Centre. For more info visit www.meafordhall.ca , call 1.877.538.0463 or stop by the box office at 12 Nelson St E.