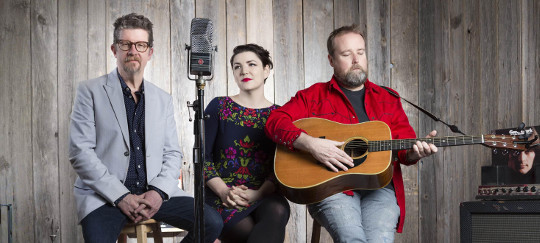 The Skydiggers are celebrating the holiday season by bringing their annual Christmas show to Meaford for the first time.
An annual two-night, sold-out tradition at the legendary Horseshoe tavern in Toronto, the Skydiggers are taking their Holiday Show on the road, a wonderful night of music featuring traditional Christmas songs, not as well known gems from artists like John Prine and The Pretenders, and a couple of Skydiggers originals as well.
More than a quarter of a century after forming, thanks to years on the road and in the studio, Skydiggers are riding all of those years of momentum and continuing to evolve as well. According to Andy Maize and Josh Finlayson, one of the keys is chemistry. "You can spend your life searching for chemistry," Andy muses. "For any relationship to remain vital and continue to grow you need chemistry. We were lucky to have found that early on with each other. We were also fortunate to play four very big shows before our first record even came out," remembers Andy. "We opened for 54-40, The Tragically Hip, Cowboy Junkies, and Blue Rodeo early on and I think we learned a thing or two about chemistry from those experiences. After all, those four bands are also still together."
Josh agrees and also points out that in order to stay creative and pertinent you need to constantly challenge yourself. "Change and evolution are imperative. To bring a visible energy to the stage every night, you need to remain passionate by pushing yourself as songwriters and performers. You need to be constantly evolving yet trying to remain timeless at the same time."
The show starts at 8 p.m. on Saturday, December 10. Tickets are available at the Meaford Hall box office, online at meafordhall.ca or call 877-538-0463.