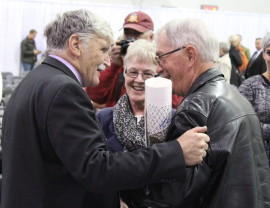 On Tuesday, October 25, General Romeo Dallaire appeared in Meaford, hosted by the Meaford Public Library and the Meaford Military Family Resource Centre.
Speaking before a sold-out audience of 300, General Dallaire discussed the important role that Canada can play on the world stage as a peacekeeping nation. He also spoke about his experiences with the Canadian Forces, particularly during the genocide in Rwanda in 1994, and his subsequent and ongoing battle with Post Traumatic Stress Disorder (PTSD).
Now retired from the Canadian Forces and the Senate, General Dallaire devotes much of his time to another cause close to his heart – child soldiers. To thank General Dallaire for his presentation in Meaford, which was held at 4th Canadian Division Training Centre, the Meaford Public Library and Military Family Resource Centre are donating over $3,600 to the Romeo Dallaire Child Soldier Initiative.
Each member of the audience received a copy of General Dallaire's new book, Waiting for First Light – My Ongoing Battle with PTSD. Thanks go to Random House Canada for sponsoring General Dallaire's appearance in Meaford.