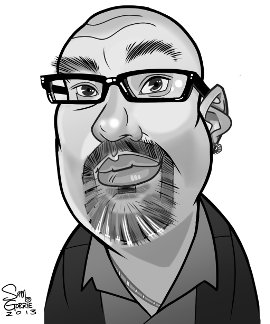 Hey Santa,
It's that time of year again when I send you a quick note with my annual wish list (I can't let all those Grade 3 kids on pages 6 and 7 of this week's print paper beat me to it!). I hope all is well up in the North Pole, and that Mrs. Claus and those reindeer are doing fine.
Now I know I don't celebrate Christmas myself, but my community does, or at least that's what all those sparkling lights and wreaths downtown tell me, so I hope you'll consider my wish list just the same.
In previous years I've asked you for things like a Bylaw Enforcement Officer for our little town of Meaford (thank you very much), an integrity commissioner (you never really pulled through on that one), the elimination of our silly "Other Big Apple" slogan (again, thank you very much), and a host of other things.
I know it's just a wish list, and I can't expect to receive everything I ask for, but I do want you to know that I do really appreciate the curbside organics pickup I asked for a bunch of years back – that initiative has helped vault Meaford among the top municipalities in the province for waste diversion, and now we've got a new 'Friends of Waste Reduction' group getting to work to find even more ways for us to reduce our waste. It isn't just us who thank you for that, the folks in Michigan probably like having a few less tonnes of trash dropped on their doorstep each year.
I suspect that I've ended up on the naughty list for the past couple of years after asking in 2013 for you to find the right-sized balls for our council (taken out of context that almost sounds rude - I guess I am a cheeky monkey) to enable them to deal with the rural/urban conflict. I know I should choose my words carefully, but previous councils just didn't have the... well, you know... to make any progress, but in spite of my punishment, I am pleased to report that you must have done something because I've never seen a council work so hard at repairing that relationship than the council we currently have.
So thanks for that, but could you work a little more of your magic, because the relationship could become strained again if this contract issue with the OSNGUPL isn't resolved soon? We need all the help we can get! So here's a big ask: any chance we could get a county library system?
If it's not too much to ask, in addition to delivering a solution to the library issue, I'd also like to request loads and loads of gravel and asphalt to help with our crumbling roads. I don't get out to the rural areas often, but I try to go for a drive every couple of months to see how things are in our beautiful municipality, and while many of our roads are in fine shape, there are some that I was driving on this summer that brought me intense flashbacks to my years in the middle of Russia where potholes as big as Ladas are not uncommon. We've got some roads in the urban area as well that aren't much better (you poor folks on Grey Ave). Surely we in Meaford are higher up on the 'good list' than those Russians!
Some other requests for my wish-list:
Could you ensure that Meaford's silly bylaw outlawing skateboards in our community is repealed?

We need someone to take over the now empty Foodland store downtown, hopefully to open a new grocery store – any chance you could help out with that?

Ontario's Premier has acknowledged that our hydro rates have become cripplingly high, and she said that she 'accepts responsibility' for that fact. Any chance you could ensure she accepts responsibility in some real way... a resignation perhaps?

There's nothing we can do with what our neighbours to the south of us have done with the election of their next president. Mr. Trump could do a lot of damage in the four years of his term, not just in America, but around the world – any way to keep him in check?
Thank you for considering my letter, Santa. Safe travels in your journey this year, and don't turn on any lights when you're tiptoeing through our homes this year: our utility bills in Ontario have been skyrocketing, and we simply can't afford non-essential lighting any more.
Regards,
Stephen Vance, Editor, The Meaford Independent
+ 37
+ 7